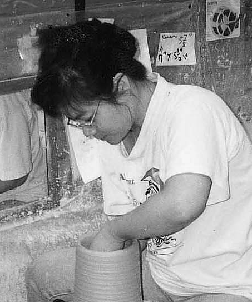 Artist Statement
My profession involved in creating art works and illustrations, when I came across pottery in 1995, it inspired me to apply my graphic skill and creative talent to this 3-D art.
Simple wheel throwing does not satisfy my desire. Different elements are applied to my work, hand carving, cutout, painting and more. In the last couple of years, I attempt the skill of adding a 3-D motif, such as flower and butterfly on pottery in the hope that these elements would make the art of pottery even more lively and interesting.
My work does not focus on one theme but vary. I keep on trying different kind of clays, technique and glaze media in order to achieve perfect effects.




Feast of the Senses
May 2013
Burnaby Arts Council's Deer Lake Gallery

Featured Artist
October 2012
Gallery of B.C. Ceramics
Granville Island
Artist Biography
Jessie Tse was born and brought up in Hong Kong – a place where blended with a very strong oriental and western culture.
She was an art director, window display designer and floral designer before she moved to Vancouver, Canada in 1992. With such a strong creative and design background, Jessie extended her talent further to a 3-D art --- pottery in 1995.
She learnt her pottery from potter Eric Chan once a week after work for 7 years.
Her creative talent was un-tapped, not only in the design
of the shapes but also the way she painted on the pieces and different approach with the glaze media.
After so many years, her enthusiasm on pottery is unchanged and even stronger. She joined the Burnaby Potters' Guild as a member in 2008, exploring more technique on carving and cutout on her pottery.
She is also a member of Potters Guild od BC since 2011.

Teapots
August 2001
The Blackberry Gallery
Port Moody Arts Centre

©1995-2019 My Pottery. All Rights Reserved.


My Pottery
October 2000
Burnaby Arts Council