"Feast of the Senses"
May 2013
Burnaby Art Council's
Deer Lake Gallery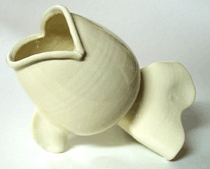 "Featured Artist "
October 2012
Gallery of B.C. Ceramics
Granville Island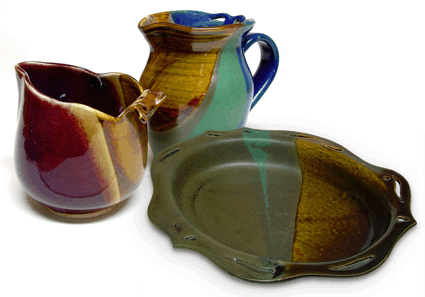 "Expressions of Nature
Painting & Pottery"
May 2003
Burnaby Arts Council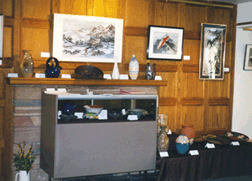 "Teapots"
August 2001
The Blackberry Gallery
Port Moody Arts Centre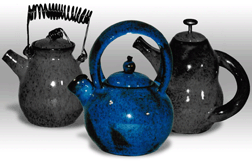 "My Pottery"
October 2000
Burnaby Arts Council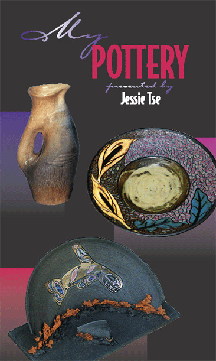 Feast of the Senses
The exhibition was held in Burnaby Art Council's Deer Lake Gallery, Burnaby, B.C. in May 2013.
It was the first group exhibition of Burnaby Potters' Guild since I have joined them in 2008, it provided a very nice platform for the members to show their talent and have a different approach to the theme.
Featured Artist
I become a member of Potters Guild of British Columbia since 2011. The gallery of BC Ceramics where located on beautiful Granville Island provides a very nice exhibition area for the members.
In October 2012, a series of hand-carving and shape-altered ceramic art pieces were exhibited.
In the last couple of years, I applied cut-out pattern on pottery in the hope that these elements would make the ceramic arts even more lively and interesting.
Expressions of Nature Painting & Pottery
This exhibition was held in Burnaby Arts Council, Burnaby, B.C. in May 2003.
This was a very special exhibition and had a great meaning to me. There were three painters held the exhibition with my potteries, one of the painters is my sister Vicki. She is an artist in Chinese painting, and held a couple of exhibitions in the City Hall, Hong Kong.
Teapots
"Teapots" was held in The Blackberry Gallery, Port Coquitlam, B.C. in August 2001.
One of my 3-piece teapots from the series of "Midnight Romance" were picked by the jury panel. That beautiful piece was created from black stoneware and glazed with a royal blue. The colour of glaze turned out nicely with the chemical reaction on the clay.
This exhibited teapot was sold to a teapot lover from Taiwan in the exhibition "Expression of Nature Painting & Pottery" in 2003.
My Pottery
This is a pleasure and also an honour to have my first exhibition presenting "My Pottery" to the public in Burnaby Arts Council, Burnaby, B.C. in October 2000.
This exhibition included 30 pieces of stoneware and earthenware. White, red and black clays; technique of carving, distortion or assembling were applied on each creative piece. Special glazing media such as fine air-brush, splash and hand-painting were applied.
I would like to take this opportunity to thank my instructor --- a brilliant potter Eric Chan who taught me on turning a piece of clay to a beautiful art.